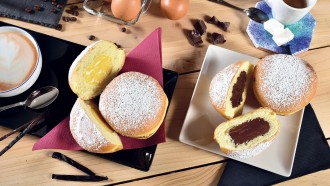 Perfect for breakfast, as a snack or as a dessert
As good as freshly baked
Ready to eat once defrosted
Different formats and flavours available​.
Bomboloni (the original name is "krapfen") is an Austrian dessert invented in 1600 in Garz, the capital of Styria.
This fragrant dessert, originally only available with an apricot jam filling, is known as "Faschingsk krapfen auf Grazer art", which means "Grazian fashion carnival cake", as it was fried and sold on the streets for the carnival.
It was so delicious to be quickly exported to Vienna and consequently to the north of Italy where it is still today one of the best delicacies you could ever savour.
The original recipe calls for an apricot jam filling, however, today you have a wide variety of creams and jams to choose from, such as: egg custard, chocolate and other kinds of jam. The delicate final touch is a thin layer of icing sugar to garnish it on top.
Stuffed Bomboloni Egg Custard

Regular, 90 g - 3.17 Oz, 6 pcs tray
Mini, 34 g - 1.20 Oz, 12 pcs tray

Stuffed Bomboloni Chocolate Cream

Regular, 90 g - 3.17 Oz, 6 pcs tray