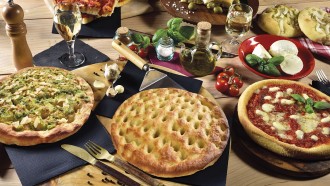 Plant protein based
Vegan
Help building lean muscle mass
High protein pizza
10.60 Oz / 300 gr
While it is worth to indulge in a memorable tasty and rich deep fried pizza, sometimes you might want to enjoy something simpler in ingredients and taste.
Choosing healthier options doesn't mean compromising on taste, nor on the enjoyment of a meal.
Because of the increase in the demand of alternative diet's foods, consumers are asking for a substitute to the classic 00 Type flour pizza dough; this is why we created our High Protein Pizza, crafted with plant based proteins only, to contribute to lean muscle mass growth and to your daily nutrients intake.
Available as a Plain Protein Focaccia, to be topped with your most favourites condiments, and as a Pesto and Garlic Protein Pizza, ready to be enjoyed oven cooked.
Whatever your taste buds like, we have got you covered, as we provide you with the chance to personalize your toppings!​
Also aviable with:
- Pesto and vegetables
- Customizable flavors
High protein garlic and pesto pizza

Topped with garlic and pesto.
Oven preparation
Product to be cooked in a preheated oven at a temperature of 392°F/200 C° for about 15 minutes.
Wait for about two minutes before serving.
Pallet

| | |
| --- | --- |
| Type | Pallet UK 48" × 40" |
| Sales unit per case | 6 |
| Cases per layers | 20 |
| Layers per pallet | 8 |
| Cartons per pallet | 160 |
| Sales unit per pallet | 360 |
| Pallet Height | 223 cm / 87,79" |