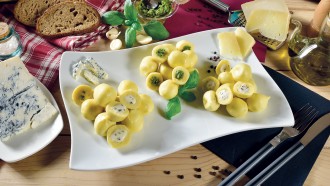 Ready in just 3 minutes
Suitable for health diets as they derive from potatoes
Filled with a creamy inside full of flavour
Different formats and flavours available​.
Stuffed gnocchi
400g / 14.11 Oz.
Italian gnocchi are one of the most popular recipes in the world, adopting different names depending on the origin. Gnocchi is probably the first type of pasta ever used by man and the original name it had in the middle age means dough with a rounded shape.
It is a very popular dish throughout Italy and it is easily matchable with different kind sauces and flavours.
Gnocchi are available in a wide variety of ingredients such as potatoes, rice, dry bread, semolina, corn flour, wheat flour and pumpkin.
Today we are able to offer an innovative and exciting recipe: the stuffed potatoes gnocchi.

Modern consumer's needs meet the ancient tradition, creating a flavourful and delicious product.
Stuffed Gnocchi Cacio & Pepe

Stuffed Gnocchi Cacio & Pepe
Cooking instructions
In a sufficiently large pot pour water and add coarse salt.
Bring the water to a boil.
Boil the gnocchi for three minutes.
Drain them and then serve them.
Pallet

| | |
| --- | --- |
| Type | Pallet UK 48" × 40" |
| Sales unit per case | 8 |
| Cases per layers | 15 |
| Layers per pallet | 10 |
| Cartons per pallet | 150 |
| Sales unit per pallet | 1200 |
| Pallet Height | 220cm / 87" |