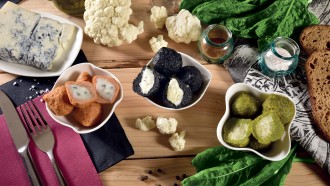 Quick and easy to prepare
Perfect as a snack
Cruncy outside with a soft creamy filling
Customizable flavour and filling
Different formats and flavours available​.
Crunchy polenta bites
200 g / 7.05 Oz.
Polenta has a very ancient origin, but today it entails corn flour cooked with water and salt.
Cooked in a cauldron on a fire, it has constituted the main source of food in Alpine native diet, for a very long time.
Today we are able to offer modern versions, like these Crunchy polenta bites, that will allow you to savour an ancient recipe with hints of modernity.
Rapa rossa e gorgonzola dolce

Red turnip and sweet gorgonzola.

Nero di seppia, cavolfiore e baccalà

Squid ink, cauliflower and cod.
Oven preparation
Product to be cooked in a preheated oven at a temperature of 200°C for about 15 minutes.
Wait for about two minutes before serving.
Pallet

| | |
| --- | --- |
| Type | Pallet UK 48" × 40" |
| Sales unit per case | 10 |
| Cases per layers | 11 |
| Layers per pallet | 14 |
| Cartons per pallet | 154 |
| Sales unit per pallet | 1540 |
| Pallet Height | 225 cm / 88,58" |