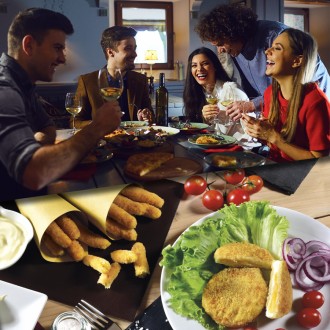 For your aperitif!
The secret of a delicious Aperitif? The best testing European recipes!
Every occasion will turn into a tasteful and unforgettable moment when trying our chef's European delicacies, daily crafted for your clients.
Especially when it's Aperitif time!
Freezeat proposes traditional or innovative European products, in finger food version.
With our products we can always meet your client's needs, from a cozy and intimate aperitif situation, to a large and sophisticated event. With our yummy and tasteful solutions you will achieve every client's approval, conquering the most knowledgeable palates.
Find out some of our recipes created specifically for your clients or you can also contact us if you would like to create a brand new product to meet your market demand.
Rapa rossa e gorgonzola dolce

Red turnip and sweet gorgonzola.

Nero di seppia, cavolfiore e baccalà

Squid ink, cauliflower and cod.

Scrambled Egg Sticks

With or without bacon, Scrambled Eggs Sticks
are a real and delicious novelty.
Easy and fast to prepare.
Perfect for a quick meal or finger food.

23g -0.81 oz.

Soft Poached Eggs Breaded

Scrambled eggs become now a snack.
These breaded eggs with a crispy coating are a unique novelty worldwide.
Perfect as a finger food.

65g - 2.03 oz.

Pizza Dough Balls Cacio & Pepe

Pizza Dough Balls Cacio & Pepe

Napoli Snack

Topped with delicious tomato.

Vesuvio Snack

Topped with delicate red onion.

Deep Fried Pizza Snack Margherita

Deep Fried Pizza Snack Margherita

Deep Fried Pizza Snack Crust

Deep Fried Pizza Snack Crust