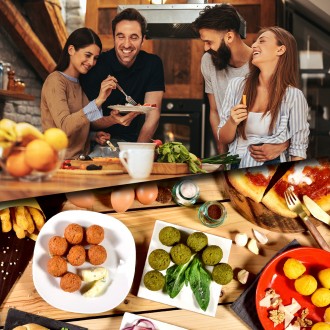 Every party will be unforgettable!
A party perfect menu!
Food is a delicious and crucial part of an unforgettable event.
This is why Freezeat developed unique chef's European recipes, which allow you to experience delightful and unforgettable events.
With our innovative, quick and easy European recipes, your clients will be able to organize fun events, relying on our products for some tasteful and delicious quaint flavours.
Each of our product is developed by our renewed Chefs to meet every taste, need and request, allowing consumers to organize unique parties and events.
Who doesn't like to celebrate with an unforgettable party? Find out the full range of European delicacies we can offer you and your clients. We also offer you the Private Label option and the chance to design products to meet your market's specific requests.
Napoli

Topped with delicious tomato.

Vesuvio

Topped with delicate red onion.

Deep Fried Pizza Margherita

Deep Fried Pizza Margherita

Pizza Dough Balls Cacio & Pepe

Pizza Dough Balls Cacio & Pepe

Rapa rossa e gorgonzola dolce

Red turnip and sweet gorgonzola.

Nero di seppia, cavolfiore e baccalà

Squid ink, cauliflower and cod.

Scrambled Egg Sticks

With or without bacon, Scrambled Eggs Sticks
are a real and delicious novelty.
Easy and fast to prepare.
Perfect for a quick meal or finger food.

23g -0.81 oz.

Gelato Macarons

Selection of 8 crunchy macarons filled with delicious gelato in the following flavors: pistachio, vanilla, chocolate and sea salt caramel.

Macarons Chocolate

Gelato Macarons al Cioccolato

Macarons Pistachio

Gelato Macarons al Pistacchio

Macarons Sea Salt Caramel

Gelato Macarons al Caramello

Macarons Vanilla

Gelato Macarons alla Vaniglia

Layered Dessert

Selection of gourmet layered dessert, that range from the most traditional tastes (tiramisù, pistachio,cheesecake with raspberry sauce) up to exploring innovative combination of ingredients (mascarpone and amaretti, limoncello, cappuccino).

Mini Cake Snack

Innovative layered single serve cakes, ready to eat thanks to the plastic fork installed in the packaging. Raspberry, ricotta, sacher, tiramisù, lemon, unicorn.. and many others irresistible flavors available!

Black forest & Ricotta mini cake

Black forest & Ricotta mini cake

Dessert Pistachio

Layered Dessert al Pistacchio

Dessert Salted Caramel

Layered Dessert al Caramello

Dessert Tiramisù

Layered Dessert al Tiramisù

Cakes Tiramisù & Raspberry

Cakes Tiramisù & Raspberry