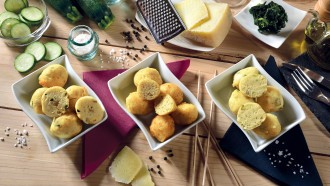 Available in different packaging formats
Customizable taste and filling
Quick and easy to prepare
Suitable for buffets and finger food
Different formats and flavours available​.
Pizza dough balls
200g / 7.05 Oz.
Pizza dough balls are crafted with the same dough used to create the more classic Napolitan pizza, however they are innovatively shaped in tiny balls and contain a delicious and melty filling.
Comfortably consumed as finger food, it can be savoured as a snack or as an entrée in a more sophisticated meal.
What is usually used to garnish a classic pizza, it is utilized as a filling to transform dough into something excellent and unforgettable.
Pizza Dough Balls Cacio & Pepe

Pizza Dough Balls Cacio & Pepe
Oven preparation
Product to be cooked in a preheated oven at a temperature of 200°C for about 10 minutes.
Wait for about two minutes before serving.
Pallet

| | |
| --- | --- |
| Type | Pallet UK 48" × 40" |
| Sales unit per case | 10 |
| Cases per layers | 11 |
| Layers per pallet | 14 |
| Cartons per pallet | 154 |
| Sales unit per pallet | 1540 |
| Pallet Height | 225 cm / 88,58" |