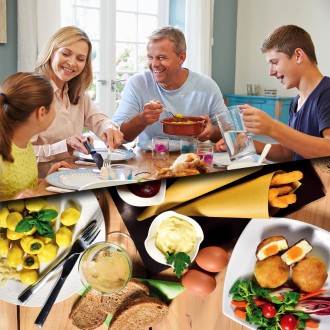 Lunches and dinners, each meal is a delightful event!
Freezeat crafts European delicious recipes that will satisfy every palate.
From the most famous dishes of the European culinary tradition, we craft innovation to deliver exquisite dishes.
Each recipe is designed to satisfy specific consumer's needs andrequests.
We are constantly looking for new and improved combination of ingredients to develop avant-garde recipes.
With our quick and easy solutions, you will be the first to offer your clients exclusive dishes, transforming an anonymous lunch or dinner into a 5 star dish.
Would you like to offer an unforgettable European meal to your clients? Find out all our products and contact us if you would like to develop a brand new one, specifically created for your market's request.
Napoli

Topped with delicious tomato.

Vesuvio

Topped with delicate red onion.

Napoli Snack

Topped with delicious tomato.

Vesuvio Snack

Topped with delicate red onion.

Deep Fried Pizza Margherita

Deep Fried Pizza Margherita

Deep Fried Pizza Snack Margherita

Deep Fried Pizza Snack Margherita

Deep Fried Pizza Snack Crust

Deep Fried Pizza Snack Crust

Egg Bites - Goldies

Our sous-vide Whole Egg Bites are suitable as a side dish, as a meal or as a snack.

Bacon - Cheese
Bacon - Jalapeño - Bell pepper

50g - 1.76 oz.

Egg Bites - Whites

Egg Bites are available both fresh and frozen.

Olive - Tomato - Basil
Cream Cheese - Herbs

50g - 1.76 oz.

American Egg

American Egg are uniform in shape and colour.
Their round shape makes them the perfect fit for burgers.
They can also be used as a topping or garnish on instant meals.

58g - 2.04 oz.

Stuffed Gnocchi Cacio & Pepe

Stuffed Gnocchi Cacio & Pepe