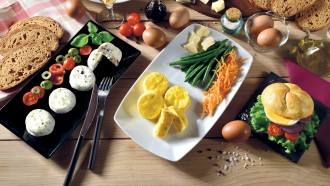 Quick and easy to prepare
Free from preservatives
Free range and barn eggs only
High in proteins
Source of good fats
Perfect for healthy and balanced diets
As a snack, as a side, as a main
Innovative and exclusive products, who respect the major sustainability principles, crafted using free range eggs (84%) and barn eggs only (16%), delivered from our local breeders.
Egg Bites - Goldies

Our sous-vide Whole Egg Bites are suitable as a side dish, as a meal or as a snack.

Bacon - Cheese
Bacon - Jalapeño - Bell pepper

50g - 1.76 oz.

Egg Bites - Whites

Egg Bites are available both fresh and frozen.

Olive - Tomato - Basil
Cream Cheese - Herbs

50g - 1.76 oz.

Soft Poached Eggs Breaded

Scrambled eggs become now a snack.
These breaded eggs with a crispy coating are a unique novelty worldwide.
Perfect as a finger food.

65g - 2.03 oz.

Jammy Egg Breaded

Not too liquid nor too hard egg yolk covered with breadcrumbs.
Easy and fast to prepare.
Perfect as a finger food.

70g - 2.30 oz

Scrambled Egg Sticks

With or without bacon, Scrambled Eggs Sticks
are a real and delicious novelty.
Easy and fast to prepare.
Perfect for a quick meal or finger food.

23g -0.81 oz.

American Egg

American Egg are uniform in shape and colour.
Their round shape makes them the perfect fit for burgers.
They can also be used as a topping or garnish on instant meals.

58g - 2.04 oz.