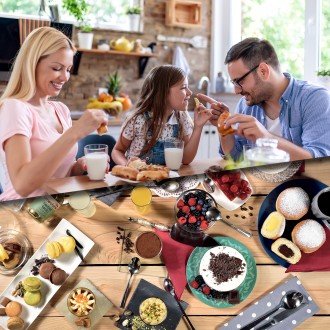 Wake up with positivity choosing a delicious breakfast!
Consumers are conscious and aware of how important having a good breakfast can be.
Eating right after waking up is essential to fuel up with energy and deal with everyday's busy schedules.
This is why everybody love to enjoy a nutritious breakfast to begin the day with positivity.
Freezeat crafts European healthy and nutritious delicacies, quick and easy to prepare.
With our tasty and easy to cook European recipes, you can offer your clients, some intense and unique foods, to a delicious start of the day.
Would you like to offer your client with an innovative European Breakfast?
Find out some of our products and formats, otherwise contact us and we will develop what you require to respond to your market's needs.
Egg Bites - Goldies

Our sous-vide Whole Egg Bites are suitable as a side dish, as a meal or as a snack.

Bacon - Cheese
Bacon - Jalapeño - Bell pepper

50g - 1.76 oz.

Egg Bites - Whites

Egg Bites are available both fresh and frozen.

Olive - Tomato - Basil
Cream Cheese - Herbs

50g - 1.76 oz.

Jammy Egg Breaded

Not too liquid nor too hard egg yolk covered with breadcrumbs.
Easy and fast to prepare.
Perfect as a finger food.

70g - 2.30 oz

Stuffed Bomboloni Egg Custard

Regular, 90 g - 3.17 Oz, 6 pcs tray
Mini, 34 g - 1.20 Oz, 12 pcs tray

Stuffed Bomboloni Chocolate Cream

Regular, 90 g - 3.17 Oz, 6 pcs tray

Mini Cake Snack

Innovative layered single serve cakes, ready to eat thanks to the plastic fork installed in the packaging. Raspberry, ricotta, sacher, tiramisù, lemon, unicorn.. and many others irresistible flavors available!

Black forest & Ricotta mini cake

Black forest & Ricotta mini cake